The first prototype portable audio Bible player developed in this ministry used the msp53c691 slave speech processor from Texas Instruments together with a mc68hc908jl3 MCU from Motorola.
It was quite crude, as you can see from the photos. The enclosure was an off-the-shelf model made in Taiwan. The holes for the speaker, button and switches had to be hand-drilled.
The mc68hc908jl3 MCU accepted user input via the pushbuttons on the front and read the CELP speech data from the NAND flash chip and fed it to the msp53c691 speech processor which would then play the speech via the speaker or headphones.
The speech data for the Bible narration was uploaded to the NAND flash chip via a custom-made parallel port NAND chip programmer.
This prototype was completed on 10 October 2003 and given to Mark Hoekstra from Talking Bibles International who kindly supplied a copy of their KJV narration by Dan Wagner that was used in the development of this player.
The front
Here is a photo of the front showing the buttons for navigating books, chapters, etc: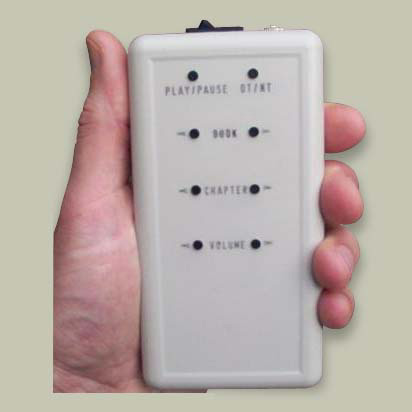 The back
This is the back, showing the speaker holes: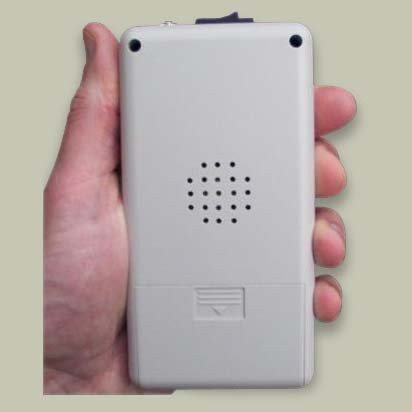 Battery compartment
This is the back, with the battery cover removed, showing the two AA cells: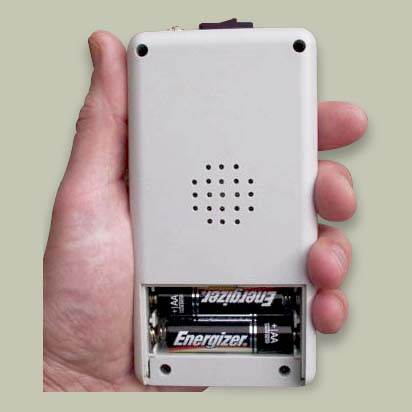 Inside
This is the inside - as you can see, a bit of a rat's nest! The NAND flash chip and the slave speech processor are visible here. The MCU is on the other side of the board with the buttons.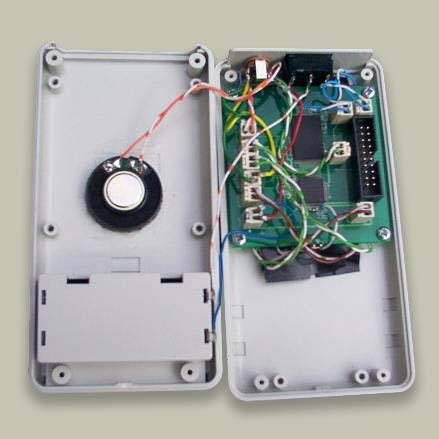 The source code
If anyone wants the source code, just shout.