Towards the end of 2006 a brother in Christ from Singapore offered to produce the SC-614 based audio Bible player in China. That's how the S100 was born: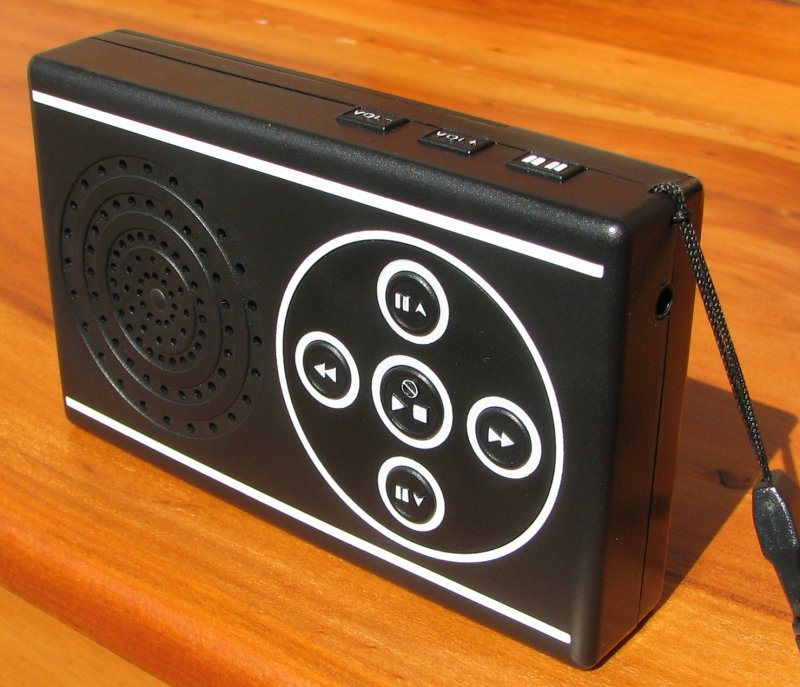 The S100 audio Bible player has been in production since 2008. It has a built-in speaker that is loud enough for group listening in a quiet room as well as a 3.5 mm earphone socket for private listening. It is powered by a pair of AA batteries and can achieve well over 200 hours of playing time from a pair of good alkaline batteries. This is normally sufficient to listen to the entire Bible (OT + NT) three times over. It can also use rechargeable NiMH batteries, which could be useful in remote situations where disposable batteries are not readily available. In such cases NiMH batteries with a solar charger would serve very well.
The button functions are as follows:
Stop/Play
Next Book
Previous Book
Next Chapter/Scroll Forward
Previous Chapter/Scroll Backward
NT/OT (category selection)
Volume+
Volume-
The S100 uses CELP for speech compression and stores the audio data on an SLC NAND flash chip that is soldered directly onto the printed circuit board. The fact that the memory chip is soldered onto the PCB and cannot be easily removed and re-used for other purposes like an SD card makes it attractive to missionaries who want to give the device away without being concerned that the memory card might be removed and used for other purposes.
Maids in Lebanon
Here is a video clip from Stephanie Christianson about how she used the S100 in her ministry to maids in Lebanon
Video clip on how to use the S100