NEW WEBSITE
Introduction
Audio Bible Players
News
Advantages
Software
Development
Contact
Free Bible Narrations
Sponsor Audio Bibles
Testimonies
Good Test
你是个好人吗?
你是個好人嗎?
Links
Texts
Subscribe

Christian Outreach Media Prototype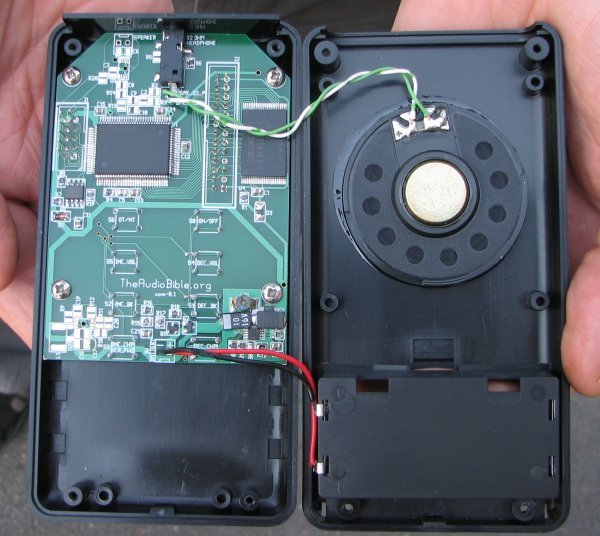 Here is a photograph of the inside of the Zulu audio Bible -
The printed circuit board (PCB) has a number of component footprints that were not populated - these were placed there for experimental purposes.
In the bottom right-hand side of the PCB you can see the switching regulator which has really proven to be a great benefit in the latest design by greatly extending the useful battery life. This will save money for people who use the device since they will get their full money's worth of energy out of the battery (two AA cells).
The speech processor is the large chip just above center to the left - the production version of this chip is smaller.
The small chip just below the speech processor to its left is a non-volatile memory chip for storing the current location in the narration so that when the audio Bible is powered off and on again, the narration continues at about the same point.
The large chip on the right side of the PCB is the flash memory. This particular one is a 1 gigabyte chip, but a half gigabyte chip would be more than sufficient for most OT + NT narrations. The Zulu narration is particularly long at over 99 hours (OT + NT), but even that could be made to fit into a half gigabyte flash without a significant loss in sound quality.
At the top of the PCB in the center is the headphone jack which could also be used to feed an amplifier.